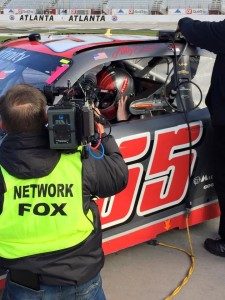 China Grove, N.C. (March 2nd, 2015) – It was a long day for Jeffrey Earnhardt and his Viva Motorsports team as a part failure relegated them to a 32nd place finish in the Hisense 250 at Atlanta Motor Speedway. The No. 55 Fronius USA/Viva Auto Group Chevrolet rolled off in 34th place after Earnhardt and Crew Chief Mark Setzer struggled to find the qualifying feel they were looking for. However, as soon as the green flag dropped Earnhardt started picking his way through the field. The forward march was short-lived as a broken shock mount on the right rear sent the Fronius USA/Viva Auto Group machine sliding through turns 3 and 4, bringing out the caution. Earnhardt pulled into the garage and the Viva Motorsports crew replaced the broken component, but not before the field went back to green flag racing. This deficit could not be overcome for the remainder of the race despite Earnhardt's ability to run lap times competitive with the leaders.
Start: 34th
Finish: 32nd
Driver Points: 17th
Owner Points: 24th
Connect with Jeffrey Earnhardt and Viva Motorsports!
Facebook.com/JeffreyEarnhardt, and Facebook.com/VivaMotorsports.
On Twitter and Instagram: @jearnhardt1, and @VivaRacing55