Gaffney SC – NASCAR can be a roller coaster for the smaller teams and 4th generation driver Jeffrey Earnhardt has certainly experienced the highs & lows over the past few races.
Between part failures and a qualifying system that doesn't lock in the top 36 fastest cars, it seemed like Lady Luck took a vacation for the ForeverLawn Zero. "Sometimes you have a hard time digesting the disappointment that can come with these experiences but anyone that knows me knows I don't quit or dwell on this stuff" said Earnhardt. "We had a real good run at Dover for a race without attrition and we were turning good times at Mid-Ohio once the team fixed the brake problem so you have to focus on those positives if you're going to build up instead of crumble." Jeffrey continued, "I see people say bad luck or blaming the team and it's like, bad luck isn't the issue. It's errors by me or the team or another driver or in the case of COTA, we were faster than teams that made the race but because of owner points they got in and we didn't. I can't focus on that and neither can the team. We have to focus on the next race and the next task at hand. We are small but we're underperforming right now and it has to change. The cars need forensic preparation, I need to make every on track decision the best I can and we have to expect only the best from everyone involved. I know that's everyone's goal at the Zero team and I think that's what we should expect moving forward."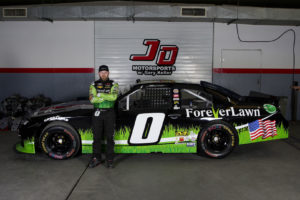 Earnhardt and the ForeverLawn Zero head to Texas Motor Speedway this coming weekend for the Alsco Uniform 250.