Pocono Raceway – The number 0 green and black grass machine of ForeverLawn returned to action this past Sunday at Pocono Raceway for the Green 225 Recycled By JP Mascaro & Sons. The Tricky Triangle didn't disappoint with a large crowd and no shortage of on track excitement. Jeffrey was prepared for some limited groove racing but throughout the race he was able to open up and make moves to improve the teams position.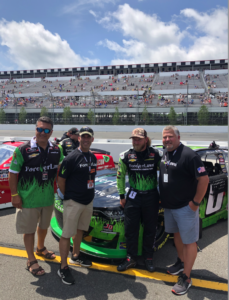 The ZERO started in the back of the pack with a 38th green flag placement and quickly passed 5 competitors in the opening laps. The car was running tight so the call was made to pit and make adjustments. Earnhardt had to pass the same 5 cars again and then set his sights on pushing forward. During a scary wreck of the 11 car that also ended the day for JDM teammate Ryan Vargas, Jeffrey narrowly avoided catastrophe with a combination of good luck and good driving.
The race had long green runs and each position was a battle. "We raced cars that I know we should be beating" commented Jeffrey. "We were really tight so I had to be careful and at the same time push the limits or we would have finished further back. We need to get our car into the top 15 on a regular basis and hopefully this second half of the season we'll get better."
At the end of the day the ForeverLawn Zero with Redneck Riviera Whiskey onboard gained 16 positions from the start of the race. Earnhardt finished with a p22 checkered flag. NASCAR takes the Cup and Xfinity Series action to Road America next week for some road course action. The entry list is long with a number of Cup drivers and road course regulars joining the qualifying effort. Xfinity Series green flag flies at 2:30 PM ET.