Bristol, TN – Toyota Racing has a rising star in the ranks and his name is Earnhardt. Spending the last decade climbing the ladder of the sport, Jeffrey Earnhardt is making a statement every time he buckles in the seat of a race car. Last nights Food City 300 at Bristol Motor Speedway was another demonstration of the 4th generation drivers talent and determination. With a starting position of 25th and an unplanned pit stop that took him from 14th to 30th, Earnhardt spent the night navigating lap traffic and passing much larger budgeted drivers.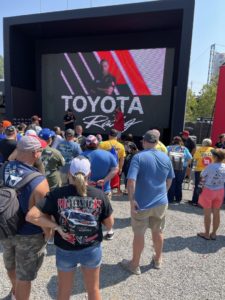 The second stage Jeffrey put on a clinic as he ran scuff tires in an effort to resume the same tire sequence as the leaders. "Hang in there you're doing fine on those tires" was the frequent message coming over the radio from his team. As the final laps approached Jeffrey was strategically picking off one position after another. A late caution opened the door for a final pit stop with the 26 ForerverLawn Supra and a shot at a top 5 finish. Unfortunately the exit of the pit area was a speed trap for several race leaders and Earnhardt and company were sent to the back as penalties took their toll. Jeffrey and team managed to salvage a 12th place finish but once again eyes were opened that Jeffrey Earnhardt is a legitimate contender on race day.
Next weekend Earnhardt heads to Texas where he fully expects to compete for the win.