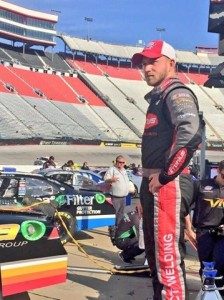 Jeffrey received the call days before the race from Jamie Dick advising him that he wanted Earnhardt to pilot the #55 Viva Motorsports Camaro during the 33rd Annual Drive to Stop Diabetes 300. It was that same disease that sidelined Dick so Jeffrey welcomed the chance to participate in a race that would further efforts to help people suffering from diabetes. "It's been tough to see Jamie get this diagnosis so with this title sponsorship for the Bristol race I was glad to do anything I could to help contribute to the cause" said Earnhardt.
Starting in the 20th position, Earnhardt battled throughout the day and was able to finish with a finishing position of 15th. "There was a lot going on out there today and we had a spin but I was able to hang on to it and finish the race with a top 20" commented Jeffrey. "Bristol is always a wild ride and I hope our fans enjoyed the day. Would have preferred a better finish but 15th was ok considering some of the day's challenges."
The next race for Jeffrey is at Talladega Superspeedway on May 2nd during the Winn Dixie 300 with FW1 Fastwax leading the way.