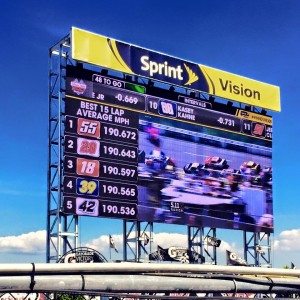 Talladega, AL (May 3, 2015) – Drivers with the last name Earnhardt had a great weekend at Talladega in both series. Dale Jr. won the Sprint Cup Series race and Jeffrey competed all day in the Xfinity Series finishing in 12th place.
"We had a strong car that could run up front" commented the younger Earnhardt. "I was logging fast laps and knew if I could keep it clean we'd be in good shape towards the end." Keeping it clean was easier said than done but Jeffrey avoided multiple crashes and with some great efforts by the VIVA team, was in position to race for the win with only slight repairs to the front end. "I got sandwiched a bit early on but the guys did a great job taping the damage without hurting our speed" said Jeffrey. "With a few laps left I was able to push the #3 but didn't get any help from behind. We tried running the top but we needed a few more cars to get with the leaders. Finishing 12th was good but I'm anxious to get back there cause I feel like we can win there for sure."
Earnhardt compiled the 15 fastest lap times at the race and had fans standing on their feet cheering when he teamed up with his grandfathers famous #3 car currently driven by Ty Dillon of RCR. The FW1-VIva Auto Group #55 Chevrolet made a statement that day and Jeffrey and team are looking forward to the next opportunity to get back on the track to build upon their success.