July 22, 2023 Pocono Raceway- Jeffrey Earnhardt and the Alpha Prime Racing number 45 team demonstrated a grit & perseverance that has come to define the 4th generation Earnhardt's career.
The Erie Sports Center/ForeverLawn Chevrolet had a slow start in practice but major moves by Earnhardt's crew chief was a roll of the dice that paid off when the green flag flew.
Starting from the depth of the field the 45 Camaro navigated its way thru traffic and had all the makings for a good day in the hills of Pennsylvania. That optimism would come to a pause when a broken part put down Earnhardt's tire requiring a green flag pit. The crew did a great job with repairs but Jeffrey went down two laps in the pits. Fans of the gritty team knew this wouldn't deter Earnhardt from delivering 110%.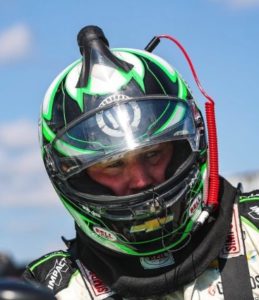 With best in class spotting, brilliant calls from the box and some good fortune cautions, the 45 returned to the lead lap and proceeded to pick off the cars in its class.
When the checkers showed themselves Earnhardt and team crossed the finish line with a top 20 finish. "We don't quit" commented Jeffrey. "Things haven't been as we would have expected this season but everyone on this team has pride and we owe it to each other to keep grinding and give it our best. We did that today."
Earnhardt returns to action in Michigan where his VIP guests will be 20 Army Rangers.