Bristol, TN- Jeffrey Earnhardt heads to the last Colesium for some Friday night small track racing after a very impressive run at Daytona Super Speedway. Large or small, Earnhardt has a great feel for the tracks and is demonstrating why he has his sights on a future championship.
"The team did a great job at Daytona and we were able to run upfront for a lot of the race" said Jeffrey. "Finishing in 11th after some chaotic wrecks was a good step forward for the 45 team and I'm looking forward to this evening in Bristol."
Earnhardt will be piloting the K9 Grass Chevrolet with a large contingency of ForeverLawn guests in attendance. "We travel big" commented the 4th generation driver. "Dale, Brian and the ForeverLawn family have a large group of people coming so it gives me an opportunity to have some fun pre-race and show people some small track racing. I usually have strong performances at Bristol and last season Alpha Prime ran really well here so I'm optimistic we're gonna put on a good show for our guests."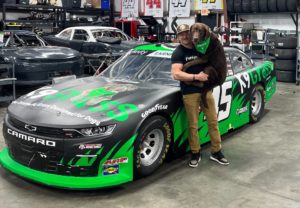 The Food City 300 gets underway at 7:30pm ET on the USA network.