Kansas City, KS – The black and green machine is back this weekend at Kansas Speedway where Jeffrey Earnhardt looks to build on his strong finish at the Roval in Charlotte. "I'm really happy to have ForeverLawn back onboard for Kansas and look forward to taking the ZERO to the front" commented Earnhardt. "Last weekend's race was a wild one and our team demonstrated a collective skill to match the conditions and bring home a decent finish. Today's race should be a lot less crazy but we're determined to keep up the momentum and drive hard until the checkered."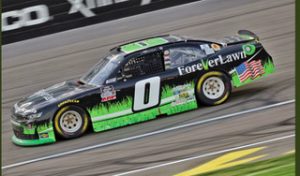 Earnhardt continues to maximize the opportunity driving for Johnny Davis and has been enjoying the "never say die" attitude of the team. "We certainly don't have the funding of the big teams but when we fire on all cylinders we're beating teams with several times our budget" commented Jeffrey. "We have to preserve our equipment but at the same time go out there and compete hard. It's a balancing act to do both but I know Johnny has my back and he's a competitor. He wants to win and fight to the finish but he also doesn't want me burning through cars so we're doing a good job under those parameters. We've had a very committed sponsor base this season and their support means the world to me and everyone on this team. ForeverLawn believes in our group and has chosen to partner with us because they know we're hard working blue collar guys that dig in and never quit. I'll give them a plug. If you want to watch our races instead of spending the day cutting some unsightly dead grass, give them a call and get a ForeverLawn and you'll be in the recliner with a beverage cheering our Zero" said a smiling Earnhardt.
The green flag waives at Kansas at 7pm EST and will be televised on NBC Sports Network.