Charlotte, NC – The Charlotte Motor Speedway Roval proved to be quite the challenge during the NASCAR Xfinity Series Drive for the Cure 250 this past weekend.
Jeffrey Earnhardt and team had the Contec Inc. Zero Chevrolet ready for action but nothing could prepare the competitors for the plans Mother Nature had in store.
At the drop of the green flag the track was mostly dry but it wasn't long before the cars headed to pit road to change over to rain tires. It was clear early on that this race was going to be very unique.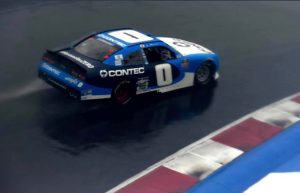 Throughout the day Earnhardt navigated through wrecks, spins and a lot of contact. Over aggressive moves on unchartered track conditions cost the field a lot cars, but with expert spotting by Chris Lambert Jeffrey was able to bring the Contec Inc. Zero to a p11 finish. "This was absolutely one of the most difficult races I've ever driven" said Earnhardt. "At one point I had to have the guys tape a towel to a stick and give it to me so I could wipe off the fog in order to see. Visibility was really poor but with Chris above and some quick decisions on track we were able to have a decent finish."
Earnhardt now moves on to Kansas Speedway for the Kansas Lottery 300 on October