Fort Worth, Texas. Jeffrey Earnhardt returned to action at Texas Motor Speedway this weekend. Earnhardt was back in the Sam Hunt Racing number 26 with the ForeverLawn Toyota Supra sporting a new attractive paint scheme. The temperature was hot and the track was fast but there were some issues that challenged the team throughout the race.
"We knew after practice and qualifying that we had some changes to make but it seems like we spent most of the day chasing the field" said Earnhardt. "The guys never quit and we did our best to figure out what was keeping us from finding the late race spark like we did in Atlanta. It was the same chassis and in Atlanta we had similar issues but found the answer late that day. For this race we never really found the sweet spot. Fortunately we have Charlotte this week and we'll have another shot at a better finish."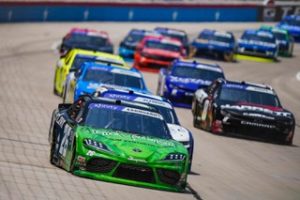 Earnhardt ran in the top 10 for part of the day but ended the race in p19. In the past a top 20 finish wouldn't be bad but both driver and team know they're capable of much more. As they head to Charlotte for the Memorial Day weekend, you can be certain everyone will be focused on racing in the front. "Our expectation is to run with the top teams and that is our plan" commented Jeffrey. "We're going to realize our potential and make sure that this weekend we get to a top 10 finish."
The Alsco Uniform 300 at Charlotte Motor Speedway begins at 1pm on Saturday, May 28th and will be televised on FS1.