Nashville, TN. Jeffrey Earnhardt returns to action this weekend at Nashville Superspeedway for the NASCAR Xfinity Series Tennessee Lottery 250. Earnhardt will be piloting the ForeverLawn Number 26 Toyota Supra for Sam Hunt Racing.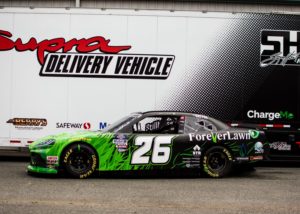 "We are really excited for some redemption this weekend" commented Jeffrey. "Our races together this season have definitely had some curveballs but the team and I worked hard to make sure we checked every box for Nashville. If we can get a mechanically sound race I think we're gonna be in good shape at the end." Earnhardt demonstrated some incredible driving to finish p2 in Talladega and now he wants that same success for he and the SHR team.
If the preparation matches Earnhardt's enthusiasm, fans can expect good things this Saturday. "We all want success together. We've bonded and have a great group of people pushing in the same direction . To get my first victory with Sam, Alan, Bryan and the SHR team would be really special. I think we're ready and can't wait to get the ForeverLawn black & green grass machine out on the track." The green flag drops Saturday at 3.30pm ET and will be televised live on USA Network.