Talladega Super Speedway – "Sometimes the door of opportunity opens and people miss it. You blasted thru it today" said Dale Karmie, CEO of ForeverLawn as he bear hugged Jeffrey Earnhardt. In what can only be described as a storybook weekend, the 4th generation Earnhardt NASCAR driver climbed behind the wheel of Richard Childress Racing's legendary #3 Chevrolet. The car made famous by Jeffrey's 7 time champion grandfather, Dale Earnhardt. The build up to race day gained additional momentum when RCR announced that none other than America's crew chief, Larry McReynolds would be climbing back atop the pitbox to lead Jeffrey's team. As if that was not enough, Mike Dillon was up high to spot the race. The stage was set for everything Earnhardt Nation could ask for and the team & driver delivered.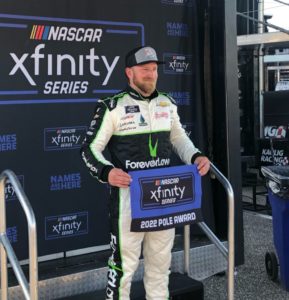 Earnhardt's first career pole position came after a qualifying effort that had Talladega buzzing. It was clear this was no publicity stunt. The 3 was there to win.
When the green flag waved, Earnhardt moved to the front and led laps until he couldn't find proper drafting companions. His positions went up and down throughout the day and after multiple cautions Earnhardt found himself shooting for a top 10 finish in. What happened from that point forward looked like a film clip of the man who made the 3 famous 2 decades earlier. "I had challenges all day finding a good push from behind but I knew it was go time and figured it was on me to seek out the openings that usually present themselves late in the race" commented Earnhardt. "I was able to find holes and Mike encouraged me to have at it and go hard. We came up one position short but I think we made a lot of people proud and most of all, someone I could feel looking down at me with that smile from above. I can't thank Richard, Larry, Mike and all the folks at RCR for believing in me and maximizing this opportunity. I also owe my sponsors ForeverLawn, Super-Pufft, Dalstrong and APA all of the appreciation I can offer. And to the fans, thanks for supporting me. I heard you and it means the world to me."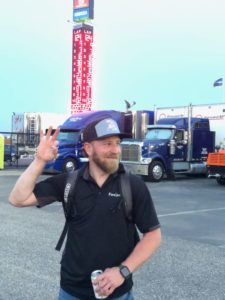 Earnhardt's next scheduled race is when the series heads to Texas where he'll return to Sam Hunt Racing to pilot the ForeverLawn 26 car.