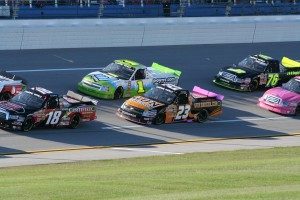 Jeffrey Earnhardt has watched his family have their way with Talladega Superspeedway for decades. The youngest family member climbed into his #1 Poynt Chevy Silverado with the intentions of carrying on that tradition, this time in the NASCAR Camping World Truck Series.
Earnhardt qualified in the 28th position and showed just how quick his truck was in the draft by moving into the 13th position on lap number two.
As the racing became dicey early, Earnhardt decided to drop near the rear but that became costly as he was caught up in an 8 truck wreck on lap 13.
"I dropped to the bottom to miss the wreck but got tagged in the right rear as I hit the apron and it ended our day," stated Earnhardt.
"The truck was great and we were trying to buy sometime til the end of the race but when trucks start wrecking at 190mph, there is just no where to go."
Earnhardt finished 34th on the day.
Jeffrey will now put his focus on the 2012 Grand AM Series preparations. "I was hoping to put a great finish on the 2011 season before focusing on next year. We had everything we needed but luck. I can't thank Poynt and the RWR team for everything they did for the weekend."