John Dagys
October 31, 2011
SpeedTV.com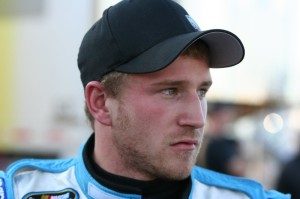 While the additions of Ferrari's F458 Italia and the Audi R8 LMS to the GRAND-AM Rolex Sports Car Series grid have taken the bulk of the attention as of late, there's another high-profile entry that could eclipse both of those efforts, with a famous racing name to boot.
Jeffrey Earnhardt, grandson of seven-time NASCAR Sprint Cup Series champion Dale Earnhardt, has been confirmed as the lead driver in Rick Ware Racing's GT class program, which will see the Thomasville, N.C.-based team field as many as three cars in the production-based ranks next year.
Following his sportscar debut at this year's Rolex 24 at Daytona, which saw the fourth-generation driver finish a respectable 11th in class in a RWR-entered Porsche 911 GT3 Cup car, Earnhardt is looking forward to mounting a full-season attack in one of the team's new GT-class Ford Mustangs.
"I've always wanted to run for a championship," Earnhardt said. "I thought we were going to be able to do it in the Truck Series but we had a sponsor pull out on us. It ended up being a bad deal there.
"Rick brought this to me and said, 'Hey, let's go run for a championship.' I wanted to do something full [season] and not do it halfway. I definitely like the opportunity and I think our chances are good."
Ware confirmed last month that they will build a pair of Prep 2 Mustangs, with technical assistance coming from Roush-Yates, for the 2012 season.
The in-house build, which Ware calls a cross between a Trans-Am and NASCAR stock car, is scheduled to be completed in time for testing at Daytona next month before returning to the famed high banks next year for the 50th Rolex 24 at Daytona.
"A year and a half ago, I could start seeing the writing on the wall," Ware said. "That's why we got involved a year ago and ran the Rolex 24. With NASCAR being a parent company, I knew how they would go about attracting manufacturers. That's what's kept them strong while going through all of these storms in motorsports lately."
While Earnhardt's co-drivers have yet to be announced, Ware said they could end up fielding as many as three cars during the Rolex Series season, with its Porsche Cup car likely being put back into action for the twice-around-the-clock Florida classic.
RWR's Mustangs are not considered a factory effort, but the NASCAR team owner is confident in having a strong package for next year, especially with Roush-Yates horsepower.
They'll no doubt have fierce competition from the likes of Porsche, BMW, Ferrari, Audi, Chevrolet and Mazda in the highly competitive GT ranks, which appears to keep getting stronger by the week.
"The fact that they're all coming makes it way harder to shine," Ware said of the competition. "But the upside is that it's going to be strong for the series, great for the manufacturers. It's going to force manufacturers to get more involved to make a name for themselves.
"They're going to continue competing for that market share and have an interest. And when manufacturers have an interest, the dollars will be there to keep racing. I think it's fantastic. They've done a great job promoting it and I think it really is the road racing version of NASCAR."
For Earnhardt, who plans to also continue driving in select Nationwide and Camping World Truck Series races next year, the opportunity to prove himself not only as a driver, but as a road racer, comes as his next biggest challenge.
"I feel like I'm comfortable enough as a driver," he said. "With a little bit more testing, I could compete with a lot of these guys. And with a good co-driver, we could sit on podiums and win races. I'm excited to see how the season is going to go."