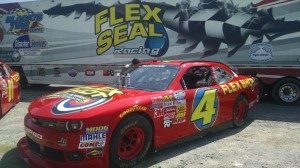 Jeffrey Earnhardt turned in an excellent performance in Friday night's Food City 300 at Bristol Motor Speedway, finishing 12th after starting 21st.
The race had no shortage of Bristol action with multiple cars making contact throughout the race. Earnhardt ran aggressively throughout the race but maintained a disciplined approach to the challenging track. "It really felt good to race around the top 10 and come home with such a solid finish," Earnhardt said. "The car ran great, and we were able to avoid the accidents and spins. That usually leads to a good finish here."
The 12th place finish is a major accomplishment for the underfunded team at JD Motorsports and driver. "We know we have to work extra hard to be competitive and tonights race was a great example of overachieving My team fired on all cylinders and I did what I had to do to return the favor. Johnny & Gary (JD Motorsports owners) promised we'd be competitive and that finish was good for all of us."
Earnhardt advanced from 17th to 12th over the race's final 45 laps and his Uncle's post race tweet captured the spirit of the evening for his nephews efforts: @DaleJr "Proud as hell of you @JEarnhardt1".
Jeffrey currently sits in 18th place in Nationwide points and heads to Atlanta for the Great Clips 300 Benefiting Feed the Children.