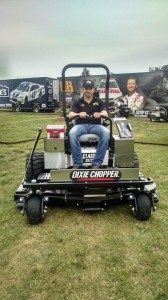 Gaffney, SC – Jeffrey Earnhardt headed to Indianapolis Motor Speedway with one mission in mind, race a complete race after several weeks of healing from a broken collarbone suffered during a motorcycle crash. "The pain was pretty significant right after the accident but I was able to start races and keep in the points" said Jeffrey. "I knew it was still going to hurt in Indy but I couldn't go another week getting out of the car mid race. Unfortunately we had the engine issue but it was good for me to get back in the saddle full time."
Dixie Chopper was the title sponsor for Indy and Jeffrey had a great experience meeting the Dixie Chopper team and signing autographs at the sponsors booth.
"Dixie Chopper Mowers are really cool. They have so many neat products and it's definitely the mower to use if you're a professional groundskeeper or homeowner looking to tackle projects with ease" said Jeffrey. "I look forward to working together in the future and can support Dixie with confidence because they offer quality products that really work."
Earnhardt will be entering Saturdays US Cellular 250 at Iowa Speedway sitting 18th in NASCAR Nationwide drivers points. Race coverage begins at 7:30 pm on August 2nd on ESPN.