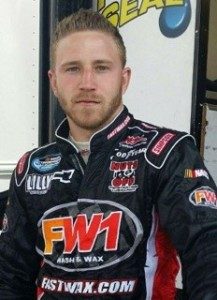 Richmond, VA. – Jeffrey Earnhardt entered the month of April with top 20 finishes in Texas and Darlington. Driver and team continue to make progress on and off the track and this weekends Toyota Care 250 at Richmond International Raceway is an opportunity to build on that momentum. "We're getting better each week and learning what things we need to do to maximize our performance" said Jeffrey. "The seat time has been very valuable and with the exception of getting clipped early in Bristol, we're having clean finishes and racing the best we can." Last year in Richmond Jeffrey made national news racing for his uncle at JR Motorsports. Spending much of that race with the front of the pack, Jeffrey looks forward to returning to Richmond.
"That opportunity was a lot of fun. We have a good car for this weekend and I'm ready to drive that #4 as fast as she can go." Jeffrey currently sits in 17th in NNS drivers points and this race certainly provides the opportunity to improve that position at the end of the day.
The Green Flag is scheduled to wave at 7:15pm EST with television coverage on ESPN News channel.