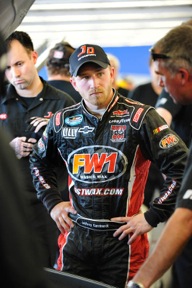 Las Vegas, NV– Two races into the 2014 NASCAR Nationwide Series and Jeffrey sits 17th in points. Daytona was a clean race for Earnhardt but removal of the tandem draft left the smaller teams at a distinct disadvantage. Car & Driver ran to the best of their ability but the only answer to a higher place finish was more horsepower. The Daytona 500 victory by Jeffrey's uncle (Dale Jr.) was great motivation and everyone at JEI and JD Motorsports are doubling down to secure sponsorship to improve the program.
From there the team rolled on to Phoenix for some small track racing. Jeffrey drove the #4 Chevrolet Camaro to a clean 27th place finish before the race was called due to rain. "I'm happy to be out there competing and look forward to working with the team to increase our speed" said Earnhardt. "We need to increase our funding so we can get more competitive. I appreciate everything the guys are doing and look forward to Vegas."
Jeffrey's next race will be the Boyd Gaming 300 on Saturday, March 8th at Las Vegas Motor Speedway.