Article Author: J. Andrew Yount. Posted on 05/23 at 3:20 AM @ digg.com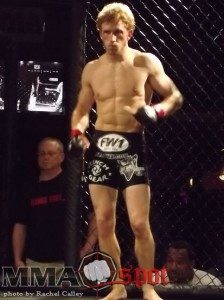 It turns out that race car drivers are athletes. Tuesday evening in Charlotte, NC, Jeffrey Earnhardt, the grandson of legendary NASCAR driver Dale Earnhardt, stepped into the cage for his first mixed martial arts fight. When his amateur debut was over, he had not only proven that drivers are athletes, he proved that he belonged in MMA as much as he does on the track. Although it was not a highlight packed contest, Earnhardt controlled the fight from bell to bell, and walked away with a three round unanimous decision victory.
The sold out crowd for "Fight Lab 25: Race Week Cage Fights" at Coyote Joe's, cheered loudly for the NASCAR Nationwide Series driver Jeffrey Earnhardt as he was introduced, and again when he completed the first takedown of the contest. It was an explosive double-leg scoop and slam that seemingly came out of nowhere; Georges St-Pierre would have been impressed.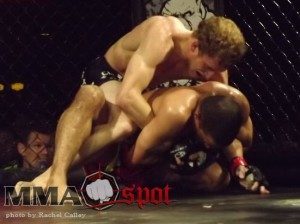 Earnhardt's opponent, the 0-3 Chris Faison, did little more than try to survive each round, making it difficult for Earnhardt to showcase a variety of skills. However, as opportunities presented themselves for the young fighter he made the most of them. To the surprise of many, Earnhardt displayed an array of savvy positions, that are typically only seen from veteran fighters. One such instance came near the end of the opening round when, as Faison was attempting to scramble away from trouble, Earnhardt effortlessly slid into a north-south position, securing Faison's head and shoulders and keeping him pinned to the mat. From that position, Earnhardt sought to end the fight with a north-south choke. Although the submission maneuver did not succeed, it was the presence of mind to seek the finish from that position that was impressive.
Many fighters will tell you, it is easy to go out there and do what you are trained to do until you are punched in the face. So how did Earnhardt hold up to that test? Pretty spectacularly. Early in the second Earnhardt shot in from long range looking for a takedown. Faison was prepared and delivered a pinpoint knee to the face of the diving Earnhardt. The blow did not seem to slow or stun Earnhardt one bit. He continued driving through the takedown and completed it with ease.
Later on in the round, after delivering a couple of strong punches from top position Faison rolled to avoid more strikes, and Earnhardt stayed with him step for step. He cleanly rolled right to Faison's back and looked to possibly sneak in a rear-naked choke. Faison tucked his legs under him and his knees to his chest, to avoid becoming completely mounted. Rather than getting impatient and making an impulsive move to try to cinch in the position, Earnhardt waited, trying to get his opponent to leave an opening. Another veteran-like attribute displayed by the inexperienced fighter.
The final test for Earnhardt came in the third round. As he closed in for a takedown, Faison reached his hands down and around the neck of Earnhardt, coming dangerously close to sinking in a guillotine choke. Where many young fighters get nervous and pull away as soon as they feel the pressure on their necks, Earnhardt continued to drive through with the takedown, completing it. After the takedown, Earnhardt slowly worked his opponent along the fence until he was in his own corner and able to receive instructions from his coaches.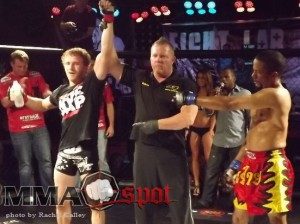 All in all, Jeffrey Earnhardt was very successful in his debut. Although his fight was not the barn burner that many had hoped for, Earnhardt looked more like seasoned pro than a rookie making his debut. Racing may be the youngster's primary focus, but it certainly looks as though MMA is a real and viable back up plan if he ever decides to quit the family business and strike out in a new direction.
The full fight results for Tuesday evening's "Fight Lab 25: Race Week Cage Fights," including the blow-by-blow of Earnhardt's debut, go to http://mmaspot.com/comments/fight-lab-25-race-week-cage-fights-live-results.