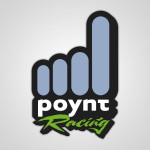 Calgary, Canada & Chicago, USA—September 29, 2011—Poynt Corporation (TSX-V: PYN) ("Poynt Corp." or the "Company"), a global leader in mobile local search and advertising, and Rick Ware Racing ("RWR") today announced the Company's flagship application, Poynt ("Poynt" or the "App") will be the official sponsor of Jeffrey Earnhardt for the Talladega Superspeedway Camping World Truck Series entry in October.
Earnhardt will be driving the Poynt branded NASCAR Camping World Truck Series Chevy in the October 22, 2011 Camping World Truck Series event at the Talladega Superspeedway, AL in the Coca-Cola 250 presented by Fred's Super Dollar. The race will be broadcast at 3:30pm ET on SPEED in the United States and on Speed Network in Canada.
"The Earnhardt name is synonymous with NASCAR," said Margaret Glover-Campbell, SVP Marketing and Public Relations. "This is a fantastic opportunity to expand Poynt's sponsorship within the RWR family, especially given the Earnhardt name has become a brand of its own. We are eager to see RWR and Poynt further grow together as Talladega approaches."
"We are very excited to have Poynt on the truck with Jeffrey Earnhardt at Talladega," stated owner Rick Ware. "Their organization strives on being #1 and it is only fitting to have Jeffrey pilot the #1 truck at a track that both Jeffrey and the fans love so much."
Added Ware, "Poynt has been a lifesaver to our team when we've put in a long day on the road between cities and need to find nearby gas, a place to eat or a hotel for the night."
Poynt is a convenient and timesaving GPS-enabled mobile application that connects NASCAR fans to local businesses, events, restaurants, movie theatres, gas prices and weather information at the moment they are looking to buy or acquire products or services. Poynt provides consumers with the ability to move beyond discovery of their local area to view movie trailers and reviews, buy movie tickets, click-to-call businesses, get directions, browse listing websites, read reviews and book dining reservations.
Poynt is available as a free download for users in the United States and Canada on Android, iPhone, Windows Phone 7, BlackBerry® smartphones and BlackBerry Playbook™ Tablet, and Nokia devices from the respective App Stores. Poynt is also available via Over the Air download on your mobile browser at m.poynt.com.
About Poynt Corporation
Poynt Corp. (about.poynt.com) is a global leader in the mobile local advertising space. Its Location Based Search (LBS) application, Poynt (www.poynt.com), enhances a user's ability to connect with the people, businesses and events most important to them. Poynt is available on Android, iPhone and iPod Touch, Windows Phone 7, BlackBerry® smartphones and BlackBerry PlayBook™ Tablets, and Nokia devices in Canada, the United States, Europe and Australia. Poynt Corp. entered the mobile publishing space with the recent acquisition of an advertising publishing platform in January 2011. Key contracts on both the supply and demand sides are in place to provide inventory into the platform and publishers to display the inventory. Whether through the Poynt Local Search App or the Ad Publishing Platform, Poynt Corp. simplifies connecting consumers with businesses, retailers and events. Headquartered in Calgary, AB, Canada, Poynt Corp. trades on the TSX Venture Exchange under the symbol PYN.
Neither the TSX Venture Exchange nor its Regulation Services Provider (as that term is defined in the policies of the TSX Venture Exchange) accepts responsibility for the adequacy or accuracy of this release.
The BlackBerry and RIM families of related marks, images and symbols are the exclusive properties and trademarks of Research In Motion Limited. Apple App Store and iPhone are trademarks of Apple Inc., registered in the U.S. and other countries. Windows is a registered trademark of Microsoft Corporation in the United States and other countries. Android is a registered trademark of Google Inc. Nokia is a registered trademark of Nokia Corporation.