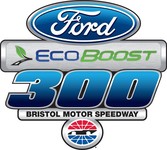 Thomasville, NC (March 6, 2012) – Bristol Motor Speedway has been the site of many firsts but for 4th generation NASCAR driver Jeffrey Earnhardt, March 17th 2012 will be significant. Earnhardt will be making his Bristol debut in the Sam's Club #15 Ford Mustang for Rick Ware Racing at the location of his grandfathers first Cup victory back in 1979. It will also be the first time an Earnhardt drives a Ford since 1983 when Dale Earnhardt drove the #15 Ford for Bud Moore.
Looking forward to his first Nationwide race of the year Earnhardt said, "I'm excited to race Bristol. My family has quite a few wins there and I hope to continue that success. I look forward to driving hard for all the Sam's Club members out there and will see them at the new Hendersonville club on the 21st." Jeffrey will be attending the grand opening of the newest Sam's Club in Hendersonville, TN on March 21st, 2012 to meet members and sign autographs.
"Racing is a sport that so many of our Members in Hendersonville follow closely, and we are honored to welcome a local favorite like Jeffrey Earnhardt to our club in celebration of the grand opening," said Jeff Godbey, Sam's Club manager. "We wish him the best of luck in Bristol and hope that the community will come by the club to meet him on March 21."
Earnhardt is competing full time in the Rolex Grand Am series and he's been securing sponsorship for multiple NASCAR Nationwide races in 2012. In addition to Sam's Club, Jeffrey's Mustang will be sponsored by a brand he's been using for years. "It's awesome to have MET-Rx on board. They're the #1 name in sports nutrition and we look forward to promoting their products to NASCAR fans" commented Jeffrey.
Team owner Rick Ware said, "Our sponsors have been great partners and having Sam's Club and MET-Rx on the #15 Ford Mustang for Jeffrey's Bristol debut is a great way to start 2012." The race will be televised on March 17, 2012 on ESPN at 1pm EST.
Facebook: www.facebook.com/jeffreyearnhardt
Twitter: @jearnhardt1
Web: www.jeffreyearnhardt.com
Team: www.wareracing.net
Inquiries: paul@jeffreyearnhardt.com