Mooresville, NC- Jeffrey Earnhardt was recently featured in Natural Motions CSR Racing mobile video game. This game is the #1 downloaded video game for hand held devices with in excess of 133 million for its latest version.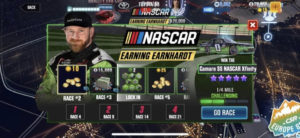 Fans can race their way through the different levels of the NASCAR themed portion of the game to unlock features and bonuses as they race Earnhardt's ForeverLawn Camaro. The marketing campaign included several video clips promoted on social media platforms with exclusive behind the scenes interviews with Jeffrey. "I've been playing CSR2 well before this partnership and when we connected and included the Earning Earnhardt portion of the game I just thought it was the coolest thing" commented Earnhardt. "Not gonna lie, being in an animated video game was pretty neat. It's also really good for our sponsor because CSR2 has well over 100 million players so the exposure they received was incredible. We always want to bring value to our partners and I think this one was over the top great and a lot of fun."
CSR2 can be downloaded on both Apple and Android devices.