The Earnhardt family has had no shortage of success at Daytona International Speedway. For Jeffrey Earnhardt, he hopes that legacy continues in the 50th Anniversary Rolex 24 At Daytona next month where he will debut the No. 15 Rick Ware Racing Ford Mustang. The fourth-generation driver sat down to discuss the initial shakedown of the new car and his love for road racing.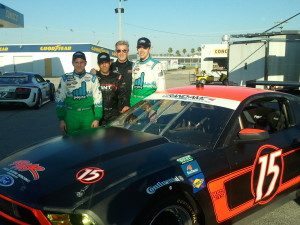 What are your initial thoughts on the new Rick Ware Racing Ford Mustang?
The Mustang is pretty sweet, I'm not gonna lie. It's got a lot of potential. We hadn't even had the car on track until this test and we didn't have any major problems. Obviously not having been on track before you're going to have some little things here and there that you'll have to fix, but it's been pretty smooth. It's impressed quite a few people for sure.
What are the differences between the Mustang and the Porsche you raced in the Rolex 24 with last year?
At first I wasn't sure how it would handle compared to the Porsche, the Mustang being a front-engine car when the Porsche was rear-engined and had all of that weight in the rear. But I was really surprised at how it drove and I was really pleased with it.
Both yourself and Rick Ware Racing have a lot of NASCAR background, what can we expect from you in the Rolex Series?
We're fully committed. Rick has really surprised a lot of people already with all of the effort that he's put into it. Just looking at the car and how far it's come in such a short amount of time, even I was surprised at all of the efforts that were put into this program.
For myself, on the NASCAR side I always tend to do better on the road courses. I finished second in the K&N race at Watkins Glen; my first two Nationwide starts were at Watkins Glen and Montreal and I ran well at both of those events. Then coming here for the Rolex 24 last year, we may have not had a car that was competitive for the win, but for a first-time team coming in and finishing 11th, I didn't think it was that bad of a result considering how strong the GT field was. We were a respectable first-time team, but this year I think we're fully capable of being a podium team, and I'm not expecting anything less.
Did you have any sports car background before you started competing in the Rolex Series?
Not really. I really liked the road racing in stock cars, it's a lot better than running in circles all day. You get to bang gears, heel-and-toe and all of that other stuff associated with sports car racing. It's neat to learn and it's neat to try new things. When the idea came up last year to run the Rolex 24, I went out to California and got to learn how to heel-and-toe and these other things and I had a lot of fun with it. Everyone seemed to be impressed with my driving and seemed to think I was a decent road course driver. Even yesterday when I got in the car I ran pretty respectable lap times and I hadn't even been in a car since last year's Rolex. I'm excited to get more time behind the wheel and see what we can really do.
How was the experience of your first Rolex 24 last year?
It's a whole different world here for sure. I remember going to the first driver meeting for last year's Roar Before the 24 and I came in wearing a hood and blue jeans. Everyone else was in their sponsor jackets…I kind of felt out of place. But really it's just race car drivers that want to race and that's no different than what you have on the NASCAR side. It's just a different style of it. I actually like GRAND-AM more because it's so relaxed and so fan friendly. We have all of these boy scouts out here and they can just walk up to you and get your autograph. There's no hassle. Even at the races fans can get right up there in the action, and that's something you don't get in any other series. That's why I love GRAND-AM, because it's so friendly and they really cater to the people that care about the sport.
What are your thoughts about the current state of the GT class with all of these new cars, teams and drivers?
It's really cool. I was shocked to see all of these drivers. I'm happy because there's more competition and it makes us as drivers step up our game and push even harder. There's several stacked teams with excellent drivers so we have our work cut out for us. But it's a 24-hour race and you have to make it to the end. That's what we have to keep preaching to ourselves. We did that last year and we made it to the end and that's the important part. This is an endurance race, not a sprint.
Is it different for you as a GT driver having to yield to the faster Daytona Prototypes?
I'm definitely not used to letting people go. Those prototypes are so much quicker. It's funny, your spotter will come on and tell you they're 15 car-lengths back and then next you know they're right on you. It's really neat. Again, it adds more excitement for me because it's something different. It's like the Trucks running against the Cup cars, that's how great the difference is.
Do you think at all about the history of the Earnhardt family name when you come to race at Daytona?
My grandpa was phenomenal here. The entire Earnhardt family has been successful at superspeedways and especially here at Daytona. Just to be here racing period, whether it's the road course or the oval, it's a lot of fun. It's a cool feeling walking around and seeing all of these old pictures of my grandfather at the Daytona 500, and my uncle…it's pretty cool.
You were selected for this Q&A by our followers on Facebook and Twitter. Here is a question from one of our followers:
When are you going to learn how to Tweet? @48Horseshoe
Haha. I've been trying. I have a few of my friends who are involved in PR in racing and they keep telling me 'You've got to tweet, you've got to tweet' and they've even offered to do it for me. I don't know, Facebook is hard enough. I'm not really that good with computers. I'm still learning how to do the whole tweeting thing… I guess I'm going to have to keep working on it now.
I'm going to have to step up my tweeting game.
GRAND-AM.com will be doing a special Q&A each day during the Roar Before the Rolex 24 and fans can pick the drivers! Follow us on Twitter at @RolexSeries and @CT_Challenge, and on Facebook at www.facebook.com/GRANDAMRoadRacing to nominate your favorite driver and get the chance to ask a question!