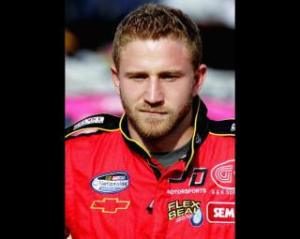 Mooresville, NC – Jeffrey Earnhardt completed the 2014 NASCAR Nationwide Series season finishing 18th in points. Like all teams there were highs and lows but overall the drivers first full season was a success.
"This year was a great experience for me" said Jeffrey. "Getting the opportunity to run full time was important to my career and learning the different tracks is something we can build on. There were a few races where we had bad luck with getting wrecked and some mechanical failures but that's part of racing. I really appreciate everything Johnny & Gary at JD Motorsports did for me and look forward to improving next season."
Jeffrey caught the attention of fans, media and competitors this year with strong performances for the small team. And on one Bristol night his famous uncle, Dale Jr. had this to tweet "Proud as hell of you @Jearnhardt1" after he ran the underdog car to a 12th place finish.
"I think people know that we were underfunded and making a lot out of a little. I'm looking forward to the offseason to build a large enough sponsor base to compete for wins next year" stated Jeffrey.
Jeffrey is working on his 2015 plans and will be making announcements in the coming weeks so stay tuned and have a great Thanksgiving!