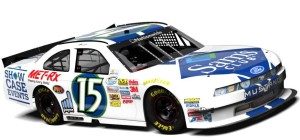 14 March 2012 – Car & driver are ready and there are a lot of "firsts" happening at Bristol Motor Speedway on St. Patty's day 2012.
The easiest way to explain is in a list:
First Nationwide Series race of 2012 for Jeffrey
First NNS race at Bristol Motor Speedway for Jeffrey
First time an Earnhardt has driven a FORD since Dale Earnhardt raced the #15 in 1983
First race Jeffrey & Dale Jr. compete together
It's been a while since the name Earnhardt appeared twice on the drivers sheet and we're excited for this weekends race. March 17th, 2012 ESPN 1pm.