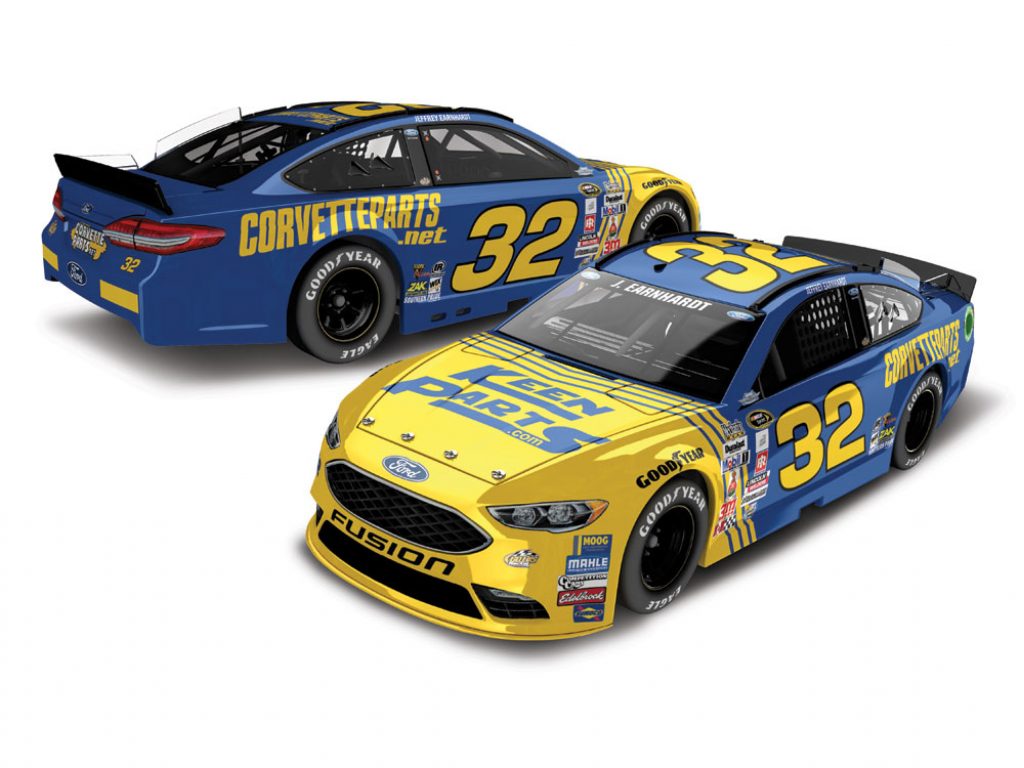 MOORESVILLE, NC (JUNE 24, 2016) – Go Fas Racing (GFR) is pleased to unveil the throwback
paint scheme that the No. 32 CorvetteParts.Net Ford Fusion will carry this September in the NASCAR Sprint Cup Series (NSCS) race at Darlington Raceway. The No.32 Ford Fusion will pay tribute to Jeffrey Earnhardt's grandfather Dale Earnhardt with a design that combines the No. 3 and No. 2 driven by Dale Earnhardt in 1981, on his way to earning 17 top-ten finishes and nine top five, including a sixth place finish in the Southern 500 at Darlington.
"Sometimes things just fall together at the right time," said Go Fas Racing owner Archie St.Hilaire. "When we were going through the process of which paint scheme to run for this year's race at Darlington the idea of a tribute to Dale Earnhardt's 1981 season stood out to all of us above the rest. Throw in the fact that we get to have Jeffrey showcase his family's heritage and pay tribute to his grandfather as well, that's just icing on the cake."
In a NSCS career that spanned 27 years, Earnhardt collected seven NSCS championships along with 76 victories, 22 poles, 281 top-five finishes, and 25,684 laps led. Additionally, Earnhardt won four IROC championships and scored 21 victories in the NASCAR XFINITY Series. For Earnhardt's success he was inducted into the NASCAR Hall of Fame in 2010.
"I'm pretty excited to have the famous yellow and blue paint scheme in honor of my Grandfather for this year's Southern 500," said Jeffrey Earnhardt. "My grandfather ran this paint scheme in 1981, when he started the season as the No.2 car driving for Rod Osterlund. When Richard Childress purchased the team halfway through the season it became the famous No.3 car, so you have that 32 connection, so it's pretty cool to have the chance to bring it back this year. I know we'll have a lot of fun with it, and hope the all the great fans enjoy it as well."
Darlington Raceway's award-winning throwback event celebrates the history and heritage of NASCAR racing at one of the sport's most iconic tracks. The campaign focuses on specific eras, plus the historic moments and drivers that made impacts at the track "Too Tough to Tame". The Tradition Continues throwback celebration will take place on Labor Day weekend as the NSCS Bojangles' Southern 500 is set for Sunday, Sept. 4, 2016, airing at 6:30 p.m. ET on NBC.
---
About CorvetteParts.Net: Corvettes are all they do, so whether you're looking for a complete interior for your vintage '58 Corvette or a performance accessory for your '09, they have the Corvette part you need and the expertise you want. For your Corvette exterior, they got you covered bumper-to-bumper. They even have emblems, moldings, grilles, bumpers and brackets, fiberglass, exterior trim and weather stripping. For the interior, they have steering wheels, seats, dash pads, consoles, carpeting, door panels, seat belts, interior trim and fasteners. Under the hood, they've got it all from air cleaners to exhaust systems, air conditioning, radiators, and valve covers all the way down to the decals and correct fasteners to bolt it all back together. For more information, please visit www.corvetteparts.net or call 1-844-Tom-Keen.
About Go Fas Racing: Go Fas Racing (GFR) currently fields Ford Fusion's in the NASCAR Sprint Cup Series with Rookie of the Year contender Jeffrey Earnhardt. Located in Race City USA; Mooresville, North Carolina. GFR has competed in the NASCAR Sprint Cup Series full time since 2014; fielding cars for some of NASCAR's top drivers, including past champions. To find out more information about GFR please visit www.GoFasRacing.com.