MOORESVILLE, N.C. (January 26, 2022) – Sam Hunt Racing (SHR) announced today that the team will field two Toyota GR Supras in the Beef. It's What's for Dinner. 300 at Daytona International Speedway on Saturday, February 19. In addition to Ryan Truex competing in the No. 26 Circle B Diecast Toyota GR Supra with SHR Technical Director Allen Hart as Crew Chief, Jeffrey Earnhardt will pilot the second SHR entry at the 2.5-mile superspeedway in the No. 24 ForeverLawn Toyota GR Supra with Crew Chief Andrew Abbott atop the pit box.
"Our entire journey has been based around calculated growth," said Sam Hunt. "Running two cars at Daytona next month is another exciting step towards continuing to grow as a company and team. Having both Ryan and Jeffrey in our Toyota GR Supras will make for a fun start to 2022. They were Busch East teammates when their careers started at DEI – so it's cool to see it come full circle at SHR."
Daytona International Speedway will be the start of a multi-race campaign for Earnhardt, ForeverLawn and the SHR team. Earnhardt has 16 career NASCAR national touring series starts at the famed 2.5-mile tri-oval, and he is eager to add another to his resume.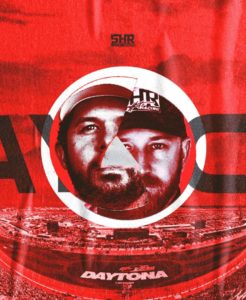 "I'm really excited to head to Daytona with Sam Hunt Racing in the ForeverLawn GR Supra" said Earnhardt. "Having Ryan Truex as a teammate for this race is a great benefit, and I'm looking forward to kicking off the new season with a strong finish."
ForeverLawn, an innovative synthetic grass solutions company, will be primary sponsor of the No. 24 Toyota GR Supra.
"We're so excited to partner with Jeffrey again this season, and we can't think of a better way to start our new partnership with Sam Hunt Racing than at Daytona," says Derek Taylor, ForeverLawn's NASCAR liaison. "We're confident in Jeffrey's ability and excited to watch his success with the support and quality equipment the SHR team offers. The Black and Green Grass Machine is ready to race–Daytona, here we come!
The green flag for the Beef. It's What's for Dinner. 300 at Daytona International Speedway is set to drop at 5:00pm ET on Saturday, February 19. The event will be broadcasted on FOX Sports 1, the Motor Racing Network, and SiriusXM NASCAR Channel 90.
Earnhardt's additional races will be announced at a later time.
ABOUT PLAN B SALES AND CIRCLE B DIECAST
Plan B Sales was founded in 2010 with the goal of bringing service to dealers that carry licensed motorsports products. We started as a Lionel diecast and Chase Authentics apparel distributor. Over the last few years we have grown to be the largest account for Lionel servicing the dealer market and have expanded the product offerings. We have quickly become the choice of dealers for a stocking one-stop distributor. Our product offering also includes Auto World, Greenlight Collectibles, BrandArt, Checkered Flag Sports Apparel, SMI Apparel and we are the exclusive distributor for University of Racing product lines. In addition, we are always looking for other great product lines to compliment our dealers' businesses. We are committed to providing the best in service to our dealers and offer many value added services to our fulfillment. We handle the fulfillment of many of today's top motorsports merchandise retailers websites as well as driver's sites such as DavidRaganStore.com & McDowellStore.com We have established relationships with many drivers & teams in Cup, Xfinity and the Truck Series to offer exclusive product offerings & autographs only available through Plan B Sales. Conveniently located within miles of Lionel to get you the product you need fast. Our proximity to our suppliers allows us to turn your orders quicker and get your items to you sooner. We fill pre ordered merchandise in full without allocation. We are a stocking distributor. There are no minimums to purchase. We offer many drop ship programs available for the largest to the smallest dealer. Established a line of autographed merchandise that contains our guaranteed Certificate of Authenticity, complete with no intrusive, transparent Circle B hologram. For more information, visit www.circlebdiecast.com
ForeverLawn improves spaces and communities through innovative synthetic grass solutions. The premium choice for synthetic surfacing, each product is engineered to solve unique consumer needs and desires while maintaining superior standards and natural aesthetics.
Want to be a part of something bigger? Learn how you can be a person of impact through business ownership opportunities with ForeverLawn. For more information, call 866.992.7876, or visit foreverlawn.com.
Toyota (NYSE:TM) has been a part of the cultural fabric in North America for more than 60 years, and is committed to advancing sustainable, next-generation mobility through our Toyota and Lexus brands plus our 1,800 dealerships.
Toyota has created a tremendous value chain and directly employs more than 47,000 in North America. The company has contributed world-class design, engineering, and assembly of more than 40 million cars and trucks at our 14 manufacturing plants, 15 including our joint venture in Alabama that begins production in 2021.
Through its Start Your Impossible campaign, Toyota highlights the way it partners with community, civic, academic and governmental organizations to address our society's most pressing mobility challenges. We believe that when people are free to move, anything is possible. For more information about Toyota, visit www.toyotanewsroom.com.