25 April 2023 – Mooresville, NC. The Alpha Prime 44 Chevrolet Camaro driven by Jeffrey Earnhardt was on the upswing after a good showing at Richmond and Martinsville the previous two weeks before Talladega. The finishes were top 20's but the actions by driver and team inspired confidence that the season was turning around from a rough start.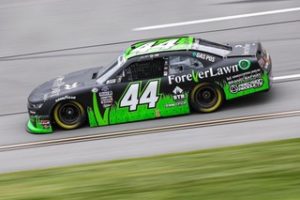 Enter Dega. Earnhardt started in P19 and throughout the first two stages showed exactly why his famous family setup a second residence at the giant super speedway in Alabama. In a picture perfect maneuver, Earnhardt avoided being part of the first caution with a strategic pause and then evasive driving to miss a wrecking 31 car. Then with patience and proper lane changes Jeffrey found himself picking up spot after spot. Finding his place with the top cars Earnhardt was racing in the top 10 and had his sights moving to the front in Stage 3.
With little warning Earnhardt found himself holding the shifter in his hand and no longer attached to the transmission. "In all my years of racing I've never had this happen to me or heard of any driver having this experience" commented Jeffrey. "I don't know how something like this happens but it's not acceptable. We were having a great run and Groves has been having solid performances as my crew chief so for this to be the reason our race ends early is super disappointing for all of us. I'm looking forward to Dover so all of us can bounce back and have a strong showing."
The NASCAR Xfinity Series heads to the Monster Mile this weekend at Dover Motor Speedway. The action begins at 2PM ET.