Daytona, Florida – The JD Motorsports with Gary Keller number 0 Chevrolet Camaro driven by Jeffrey Earnhardt crossed the Florida state line with tremendous enthusiasm and lost of positive momentum. Earnhardt's program enjoyed major partnerships from ForeverLawn and country music star John Rich's Redneck Riviera Whiskey and the JDM team worked tirelessly to prepare superspeedway and road course cars to tackle all of the asphalt Daytona International Super Speedway had to offer.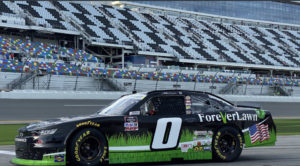 The big track at Daytona always delivers excitement and the "Beef 300" did not disappoint. Earnhardt navigated thru some early chaos and appeared to be stalking the field to execute his late race strategy. "It's always a crapshoot at the super speedways" said Jeffrey. "I was watching which guys were racing smart and who I thought would tear up early and for the most part we stuck to a plan that was working. The car handled well and the motor was capable of getting us forward so I felt confident we could go for the win as we got closer to 10 to go." Unfortunately another team made a late call to pit and the driver behind made some errors and in a split second they combined to end the day for the ForeverLawn Zero. "The 1 car came up the track and took out the top lane and ended our night" commented Jeffrey. "It was pretty aggravating because those errors shouldn't have happened at that time. We had nowhere to go and it ruined some cars due to someone else's poor choices."
Just a week later the Zero returned to Daytona to take on the road course. The damage of the week prior resulted in a start from the rear and the Chevy Zero got caught early in a push to the turf. "If I had a phone in the car I would have called the folks at ForeverLawn to come changeout that grass" said Jeffrey. "Everyone was scrambling aggressively at the start and we got pushed into the grass and it destroyed our front. The team did a great job with repairs and after a number of passes and a lucky dog I was able to get back on the lead lap and put ourselves to contend for a decent finish." That effort would be compromised when the rear gave way on Earnhardt's Camaro with just laps remaining in the race. "We fought back hard to finish the race strong but I felt the rear break and from that point forward all we could do was ride out the last few laps. I'm proud we never gave up and we'll shake this off and move on to Miami next week."
The NASCAR Xfinity Series next race is in Homestead Miami on Saturday, Feb. 27th at 4:30pm.