Mooresville, NC – The 2023 season is underway and Jeffrey Earnhardt has 3 races in the books with his new team, Alpha Prime Racing. "Daytona showed speed and promise and the other two races demonstrated we have some work to do" said Earnhardt.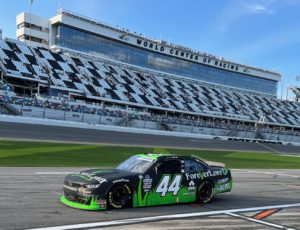 Daytona was the kick off for the 44 team with the ForeverLawn Black & Green Grass Machine sporting a new vibrant paint scheme and a host of returning sponsors from the 2022 season as well as a few new partners.
The event showed Jeffreys prowess on super speedways with Earnhardt avoiding wrecks and keeping his car clean to compete at the finish. With just a few laps remaining he was confidentially drafting within the top 10. Driver error by the 48 car cut down the tires of Earnhardt's Camaro forcing him to pit and out of contention. From Daytona the 44 changed paint to promote "The Jesus Revolution" movie and began the West Coast swing for the NASCAR Xfinity Series.
"The off track experiences were nothing short of amazing" commented Jeffrey. "We attended a service at Harvest Church with Pastor Greg Laurie and then got to spend time with the ForverLawn folks and a number of guests. It was really fun." The on track performance wasn't what the team was looking for and Earnhardt plans on rallying the troops to get the program on track for Phoenix. "Last year the guys at APR demonstrated they had speed and I have confidence we're going to right the ship" said Jeffrey. "We discovered the issue after qualifying in Vegas and it's one of those things where we learn and move forward as a team. I'm invested in these guys and I know they have my back. We're going to rebound and have the big track cars better prepared when we head back to the mile and a half's. Now we have some short track and road courses on the schedule so we have to catch up and get some points."
The 44 car heads to Phoenix next Saturday and it's an opportunity to climb back in the standings.